Chicken With Mixed Mushrooms And Cream
---
CHICKEN WITH MIXED MUSHROOMS AND CREAM
This succulent chicken recipe came to The Times from Amanda Hesser in 2003, but it's as timeless as they come. Here, riesling lifts a rich cream sauce, while mushrooms add a distinct earthiness. Make it on a weeknight when you have a little more time to spend in the kitchen, and want something special on the table. Your loved ones will thank you.
Recipe From cooking.nytimes.com
Provided by Amanda Hesser
Time 1h15m
Yield 4 servings
Steps:
Heat oven to 325 degrees. Heat 1 tablespoon oil and 1 tablespoon butter in a medium skillet over medium heat. When melted and bubbling, add mushrooms and thyme. Cook, stirring occasionally, until softened and browned on edges, 10 to 15 minutes. Discard thyme, and season with salt and pepper to taste; set aside.
Heat remaining oil and 1 tablespoon butter in a large sauté pan over medium-high heat. Season chicken with salt and pepper and add it skin-side down to the hot pan. Brown well on all sides, about 10 minutes. Pour in broth and bring to a boil. Cover and place in oven until very tender, about 30 minutes.
Transfer chicken to a plate, and pour pan juices into a bowl. Return pan to medium heat, and add remaining 2 tablespoons butter. When it foams, add onion and sauté until translucent. Add riesling and bring to a boil, reducing by half. Add 1/2 cup of cooking juices, and reduce by half.
Add cream and simmer for 3 minutes. Return chicken to pan, and add mushrooms. Simmer, basting, about 2 minutes. Serve hot.
Number Of Ingredients: 11
Ingredients:
2 tablespoons olive oil
4 tablespoons butter
3 cups mushrooms (any mix, such as cremini, chanterelle, blue foot and shiitake), sliced 1/4-inch thick
3 sprigs thyme
Sea salt and freshly ground black pepper
4 chicken thighs, preferably organic
4 chicken drumsticks, preferably organic
1/2 cup chicken broth
1/4 cup finely diced onion
1/3 cup riesling
1/4 cup heavy cream
---
CHICKEN WITH MUSHROOM CREAM SAUCE
ABSOLUTELY DELICIOUS! Tender and moist pieces of chicken in a savory mushroom cream sauce. A specialty dinner to impress your family. Easy and quick preparation! (I have used chicken tenders with success.)
Recipe From food.com
Provided by Seasoned Cook
Time 40m
Yield 2 serving(s)
Steps:
Pound chicken breasts with a meat mallet to flaten.
Sprinkle chicken breasts with salt, basil and thyme. Using a large saucepan over low heat, saute chicken breasts in olive oil until juices run clear -- approximately 10-15 minutes. Turn heat off, cover with lid and allow chicken to remain in pan for 10 minutes.
In a small saucepan saute mushrooms in olive oil. Add minced garlic and wine.
Remove chicken from large saucepan to a plate.
Place mushroom mixture in large saucepan and stir to loosen brown bits from bottom of pan. Allow mushrooms to simmer approximately 2 minutes.
Add heavy cream. In a small cup, dissolve cornstarch with cold water and add to cream. Heat and stir until sauce thickens.
Place chicken breasts back in pan and spoon sauce over chicken. Allow chicken to reheat. Sprinkle parmesan cheese on top. Serve with pasta of choice.
Enjoy!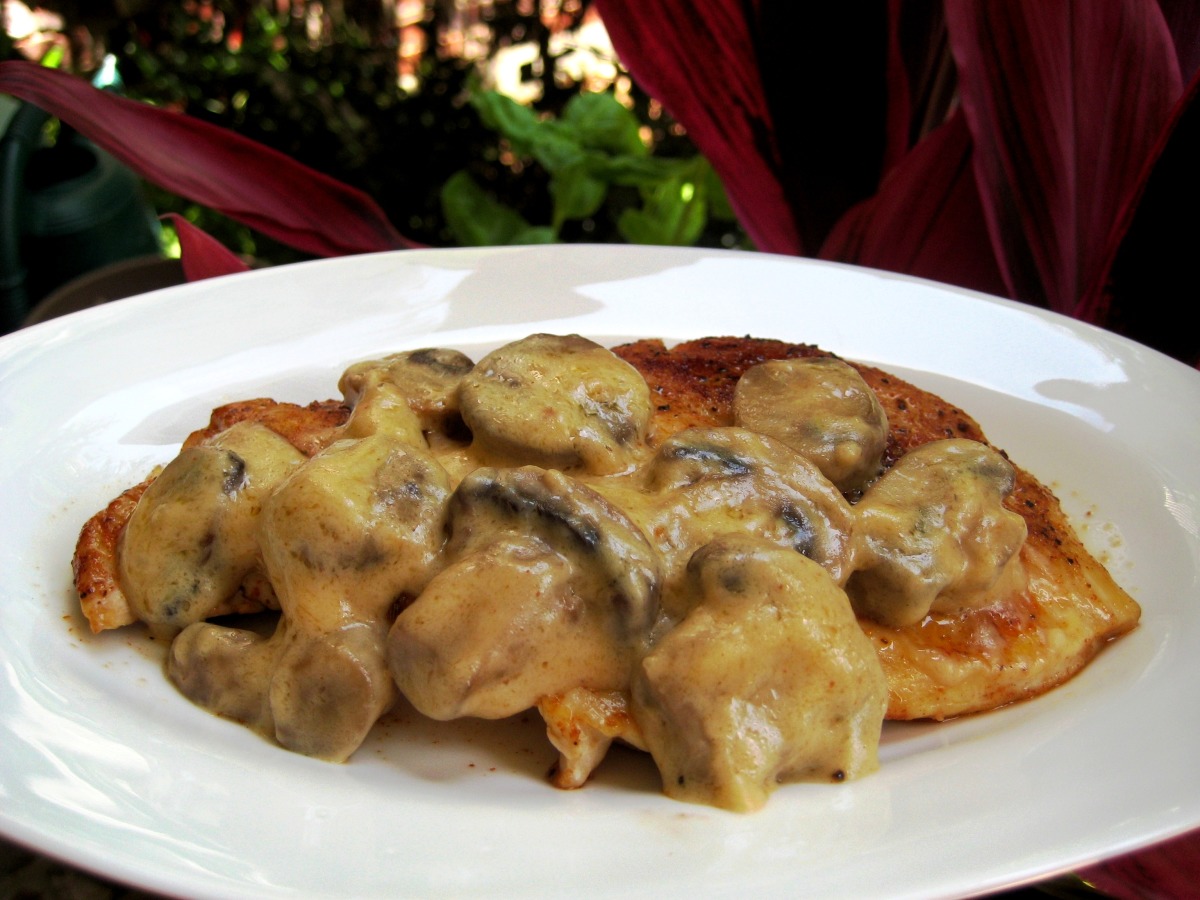 Number Of Ingredients: 13
Ingredients:
2 boneless chicken breasts
1 teaspoon dried basil
1 teaspoon dried thyme, ground
1 teaspoon salt
2 tablespoons olive oil
3 cups mushrooms, sliced
1/2 teaspoon garlic, minced
1 tablespoon olive oil
1/4 cup white wine
1/2 cup heavy cream
1/4 cup parmesan cheese
1 tablespoon cornstarch
2 tablespoons cold water
---
CHICKEN WITH WILD MUSHROOM AND BALSAMIC CREAM SAUCE
This recipe is a modern take on the ol' Cream of Mushroom Chicken. This one is more healthful and almost as easy as pouring that condensed, salty mass out of a can. It will heal a long day!
Recipe From foodnetwork.com
Provided by Rachael Ray : Food Network
Time 30m
Yield 4 servings
Steps:
Heat a large pot of water to a boil. Salt the water and add orzo pasta. Cook to al dente.
Preheat a large nonstick skillet over medium-high heat and add extra-virgin olive oil, 2 turns of the pan. Season chicken liberally with salt and pepper and add to the hot skillet. Cook the chicken for 5 to 6 minutes on each side. Remove the chicken from the pan and cover with foil to keep warm.
Return the skillet to the heat, turn heat back a bit, and add the butter. Once the butter melts add the mushrooms and brown stirring occasionally for about 4 to 5 minutes. Once the mushrooms are brown season with salt and pepper then add the garlic, thyme and shallots. Cook stirring occasionally for about 2 minutes or until the shallots are wilted. Sprinkle the flour into the pan and cook 2 minutes more. Whisk in the stock, balsamic vinegar and the cream. Turn the heat up to high and simmer for about 2 minutes or until thickened. Slice the chicken on an angle. Add the parsley and the chicken back to the skillet to heat up, about 1 minute.
To serve, pile orzo on dinner plates and top with the sliced chicken and sauce.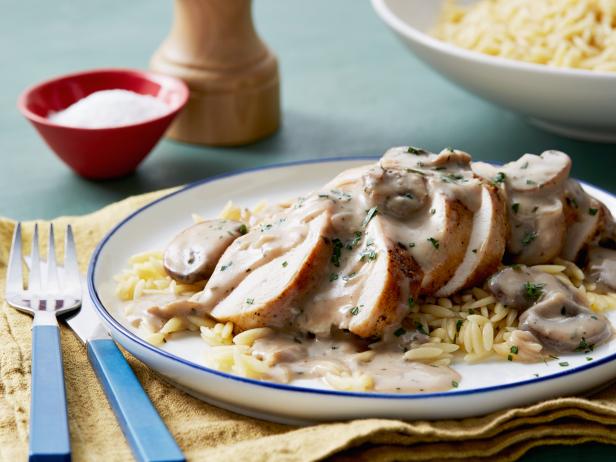 Number Of Ingredients: 17
Ingredients:
Salt
1/2 pound orzo pasta
2 tablespoons extra-virgin olive oil, 2 turns of the pan
4 boneless, skinless chicken breasts, 6 ounces
Pepper
2 tablespoons butter
12 cremini or baby portobello mushrooms, sliced
12 shiitake mushrooms, stems removed and sliced
12 white mushrooms, sliced
2 large cloves garlic, chopped
1 tablespoon thyme leaves, a couple of sprigs, chopped
2 large shallots, thinly sliced
2 tablespoons all-purpose flour
1 1/2 cups chicken stock
1 tablespoon balsamic vinegar, eyeball it
3 tablespoons heavy cream or half-and-half, a couple turns of the pan
1/4 cup chopped flat-leaf parsley, a generous handful
---
PAN-ROASTED CHICKEN IN CREAM SAUCE
This recipe is an adaptation of a dish the chef Angie Mar serves at the Beatrice Inn in Manhattan, the chicken crisped in a pan, then napped in a Madeira-laced cream sauce dotted with morels. Which sounds fancy and hard to make but isn't, really. Brown the chicken, and set it aside to rest. Cook the morels in the remaining fat - you could swap them out for another wild mushroom or even button mushrooms in a pinch - and then flash them with Cognac, which you'll find will come in handy again and again once you start cooking with it. (Try it on steak au poivre!) Then build up a sauce with cream and a little butter and crème fraîche for gloss, get the chicken into it and add some fresh savory and tarragon at the end - or just one of those, or neither. Make the dish as you prefer or as you can. It's luxurious, every time.
Recipe From cooking.nytimes.com
Provided by Sam Sifton
Time 1h
Yield 4 servings
Steps:
Season the chicken parts aggressively with salt. Set a Dutch oven or large, high-sided sauté pan over high heat, and swirl the olive oil into it. When it is shimmering and about to smoke, turn the heat to medium high, and working in batches, add the chicken to the pan, skin-side down, setting the pieces aside to rest when they are golden and crisp on one side and just kissed by the heat on the other, approximately 30 minutes for all the meat.
Discard all but 2 tablespoons of fat in the pan, then return it to medium-high heat and add the mushrooms, tossing to coat them with fat. Cook, stirring often, until the mushrooms just begin to soften, approximately 3-4 minutes, then remove the pan from the heat. Add the Cognac, and carefully ignite it with a match, or simply cook it on very low heat until the alcohol has evaporated and the mushrooms are glossy.
Scrape the mushrooms to the sides of the pan, then add to it the chicken pieces, arranged in a single layer if possible. Pour 1 to 1 1/2 cups of chicken stock around the chicken. It should rise about halfway up each piece. Lower heat to medium, allow the mixture to come to a low simmer, then put a lid on the pan and allow the mixture to cook slowly until the meat has cooked through, approximately 15 minutes.
Remove the lid from the pan, and transfer the chicken pieces to a platter to rest. Turn the heat to medium high, and allow the chicken stock to reduce by 1/3, then add the heavy cream, and stir to incorporate. Let this mixture simmer for a minute or 2 until it starts to thicken, then add the Madeira, and swirl again to combine.
Continue cooking the sauce until it can enrobe the back of a spoon, approximately 2-3 minutes more, then stir in the butter, crème fraîche and chopped savory and stir to combine. Turn the heat off, add the tarragon, stir one more time and then return the chicken pieces to the pan. Spoon some sauce over the chicken, sprinkle with the parsley and serve.
Number Of Ingredients: 13
Ingredients:
1 chicken, 4 to 4 1/2 pounds, cut into pieces, or some combination of chicken parts on or off the bone, approximately 3 pounds
Kosher salt to taste
2 tablespoons olive oil
12 to 15 morels or other wild mushrooms, approximately 3 1/2 ounces
1/4 cup Cognac
1 1/2 cups chicken stock, homemade or low-sodium
2/3 cup heavy cream
1/2 cup Madeira wine
1 tablespoon unsalted butter
1 tablespoon crème fraîche or Greek-style yogurt
2 teaspoons finely chopped savory
1 tablespoon finely chopped tarragon
1/2 tablespoon finely chopped parsley, to finish
---
CHICKEN AND PASTA CASSEROLE WITH MIXED VEGETABLES
I dreamt up this recipe on my way home from work one night to use the ingredients I had on hand. It's a great comfort food for chilly winter evenings!
Recipe From allrecipes.com
Provided by JENTOP
Time 1h
Yield 6
Steps:
Preheat oven to 400 degrees F (200 degrees C). Lightly grease a medium baking dish.
Bring a large pot of lightly salted water to a boil. Place fusilli pasta in the pot, cook for 8 to 10 minutes, until al dente, and drain.
Heat the oil in a skillet over medium heat. Place chicken in the skillet, and season with minced onion, salt and pepper, garlic powder, basil, and parsley. Cook until chicken juices run clear. Mix in the cooked pasta, cream of chicken soup, cream of mushroom soup, and mixed vegetables. Transfer to the prepared baking dish.
In a small bowl, mix the bread crumbs, Parmesan cheese, and butter. Spread evenly over the casserole.
Bake 30 minutes in the preheated oven until bubbly and lightly browned.
Number Of Ingredients: 14
Ingredients:
1 cup dry fusilli pasta
3 tablespoons olive oil
6 chicken tenderloins, cut into chunks
1 tablespoon dried minced onion
salt and pepper to taste
garlic powder to taste
1 tablespoon dried basil
1 tablespoon dried parsley
1 (10.75 ounce) can condensed cream of chicken soup
1 (10.75 ounce) can condensed cream of mushroom soup
2 cups frozen mixed vegetables
1 cup dry bread crumbs
2 tablespoons grated Parmesan cheese
2 tablespoons butter, melted
---
More recipes about Chicken With Mixed Mushrooms and Cream recipes