HEALTHY PUMPKIN PANCAKES
my family loves these pancakes. they cook up very thick and heavy so two will seriously fill you up. they are great for teenagers who can eat you out of house and home, yet they aren't full of saturated fat, sugar, or processed flour. also, pumpkin is a fruit so you are eating one of your servings of fruits and veges without even knowing it!
Time: 25 minutes
Steps:
mix all the dry ingredients well
mix all the wet ingredients in with the dry ingredients until there are no clumps
cook on medium heat until the edges look dry , then flip
remember , these pancakes will be dense and thick
this is how they are supposed to turn out
super good with real maple syrup !
enjoy !
Number Of Ingredients: 11
Ingredients:
whole wheat flour
brown sugar
baking powder
salt
cinnamon
allspice
ginger
nonfat milk
vanilla
olive oil
canned pumpkin
---
HEALTHY PUMPKIN SPICE PANCAKES
Every year around September I get a HUGE craving for anything and everything pumpkin--especially this year since I'm expecting a little one this winter! This is what I came up with when craving pancakes but wanting something healthy, too. It is a take-off from the Whole Wheat Buttermilk Pancakes in "Recipes from the Old Mill". Enjoy!
Recipe From food.com
Provided by smellyvegetarian
Time 20m
Yield 19 serving(s)
Steps:
Beat eggs well until somewhat frothy.
Add other ingredients except pumpkin and mix.
Add pumpkin and mix again.
Fry batter in scant 1/4 cupfuls on a nonstick griddle or pan.
Try not to stack pancakes if possible; this helps retain the fluffiness :). I often store them on a cookie sheet in a 250°F oven until time to serve, which helps keep them warm.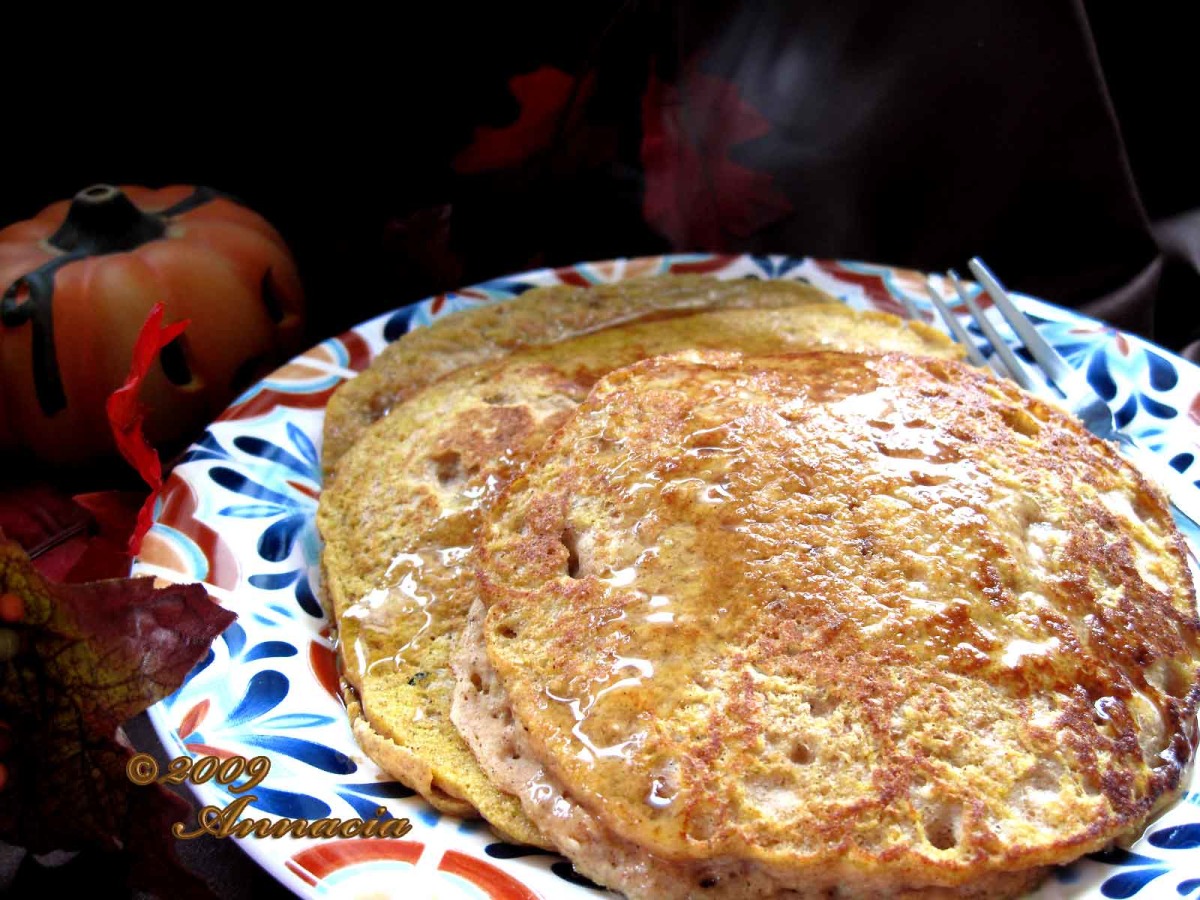 Number Of Ingredients: 13
Ingredients:
1 egg
1 egg white
1 cup flour
1/2 cup whole wheat flour
1/2 cup oatmeal
1 3/4 cups fat-free buttermilk (I use powdered)
1 teaspoon baking powder
1 teaspoon baking soda
1/2 teaspoon cinnamon
1/2 teaspoon nutmeg
1/4 teaspoon ground cloves
1/2 teaspoon salt
3/4 cup canned pumpkin puree
---
More recipes about Healthy Pumpkin Pancakes recipes