Mix And Match French Macarons
---
FRENCH MACARONS
This delicious macaron recipe from Food Network Kitchen is sure to impress. Share with guests, or keep this sweet French treat all to yourself!
Recipe From foodnetwork.com
Provided by Food Network Kitchen
Time 2h30m
Yield 36 servings
Steps:
Preheat the oven to 300 degrees F using the convection setting. Line 3 baking sheets with silicone mats. Measure the confectioners' sugar and almond flour by spooning them into measuring cups and leveling with a knife. Transfer to a bowl; whisk to combine.
Sift the sugar-almond flour mixture, a little at a time, through a fine-mesh sieve into a large bowl, pressing with a rubber spatula to pass through as much as possible. It will take a while, and up to 2 tablespoons of coarse almond flour may be left; just toss it.
Beat the egg whites, cream of tartar and salt with a mixer on medium speed until frothy. Increase the speed to medium high; gradually add the superfine sugar and beat until stiff and shiny, about 5 more minutes.
Transfer the beaten egg whites to the bowl with the almond flour mixture. Draw a rubber spatula halfway through the mixture and fold until incorporated, giving the bowl a quarter turn with each fold.
Add the food coloring and extract (see below). Continue folding and turning, scraping down the bowl, until the batter is smooth and falls off the spatula in a thin flat ribbon, 2 to 3 minutes.
Transfer the batter to a pastry bag fitted with a 1/4-inch round tip. Holding the bag vertically and close to the baking sheet, pipe 1 1/4-inch circles (24 per sheet). Firmly tap the baking sheets twice against the counter to release any air bubbles.
Let the cookies sit at room temperature until the tops are no longer sticky to the touch, 15 minutes to 1 hour, depending on the humidity. Slip another baking sheet under the first batch (a double baking sheet protects the cookies from the heat).
Bake the first batch until the cookies are shiny and rise 1/8 inch to form a "foot," about 20 minutes. Transfer to a rack to cool completely. Repeat, using a double sheet for each batch. Peel the cookies off the mats and sandwich with a thin layer of filling (see below).
Almond-Raspberry:
Tint the batter with 2 drops neon pink gel food coloring; flavor with almond extract. Fill with seedless raspberry jam (you'll need about 3/4 cup).
Mint-White Chocolate:
Tint the batter with 2 drops mint green gel food coloring; flavor with mint extract. For the filling, microwave 3 ounces chopped white chocolate, 2 tablespoons heavy cream and 1 tablespoon butter in 30-second intervals, stirring, until smooth. Stir in 1/4 teaspoon mint extract and 1 drop mint green gel food coloring.
Blueberry Cheesecake:
Tint the batter with 3 drops royal blue gel food coloring; flavor with vanilla extract. For the filling, mix 4 ounces softened cream cheese and 3 tablespoons blueberry jam.
Lavender-Honey:
Tint the batter with 2 drops violet gel food coloring; flavor with almond or vanilla extract. For the filling, mix 3/4 cup mascarpone cheese, 2 tablespoons honey and 1 teaspoon ground dried lavender.
Pineapple:
Tint the batter with 2 drops lemon yellow gel food coloring; flavor with vanilla extract. For the filling, press 3/4 cup pineapple jam through a sieve, discarding any large pieces.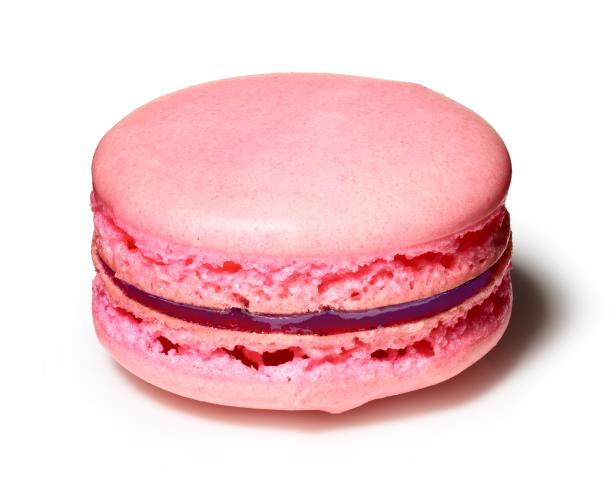 Number Of Ingredients: 9
Ingredients:
1 3/4 cups confectioners' sugar
1 cup almond flour
3 large egg whites, at room temperature
1/4 teaspoon cream of tartar
Pinch of salt
1/4 cup superfine sugar
2 to 3 drops gel food coloring (see below)
1/2 teaspoon vanilla, almond or mint extract
Assorted fillings (see below)
---
FRENCH MACARONS
I have been asked by some of you to explain how to bake the perfect French macaron and while they are the divas of the cookie world, you can make them at home with a little bit of practice and patience. The result is worth it, as what you can achieve are perfectly smooth, rounded little sweets that you can colour to your hearts desire and fill with the most intoxicating flavours. Macarons are the picture of class, dainty tea parties and are perfect for any gathering you wish! First-off, what are they? Macarons are little, almond-meringue based cookies that have a crisp, eggshell-like top and a soft interior. Macarons are usually filled with buttercream, ganache or fruit gels and are a very dainty, fragile and sought after French/Italian pastry. A version of macarons have been produced since the 8th century AD and were a popular sweet in the household of Catherine de' Medici and Henry II of France. In 1792, another version of the macaron was created by two Carmelite nuns who baked and sold the sweets to pay for their housing during the French Revolution. The colourful "sandwich" version of macarons did not exist until the 1830's, their creation generally credited to the French patisserie Laduree . I first made these when I worked at Europea as the stand-in pastry chef when the restaurant lost theirs overnight. The macarons craze was just beginning and I had only just heard of them. I had to learn how to make the small sweets quite quickly as they were a staple on the menu and had to be perfect each time. As I had not been trained how to make them, I lost a few batches along the way. One night, after service, I started a batch of about 500 mini macarons intent on getting a jump on the next days' mise en place. The executive chef sat in the restaurant, unbuttoned his pristine chef coat and cracked a beer as he waited for me to finish up. I followed all the steps closely, making sure everything was precisely measured, sifted and at the right temperatures. The batter looked perfect, I piped perfect little rounds on multiple baking trays and fed them into the convection oven, set the timer and cleaned the kitchen to a gleaming shine. When the timer went off, I flung open the oven doors and my heart sank to the floor, as every single macarons was cracked, dull and uneven. I still had about 20 baking sheets left to bake and I foolishly hoped that maybe the next trays would come out better than the last, which they did not. Needless to say, I was very embarrassed and I didn't know what to say to the chef who had waited for hours for me to finish. At 2 am, I shame walked out of the kitchen, wringing an imaginary towel in my hands, and timidly explained that the whole batch of expensive macarons were ruined and that I had wasted his time. Oh my goodness... My heart felt like a sinking ship and my fingers and toes were tingling with embarrassment. Luckily I wasn't scolded, as he was exhausted and a few beers in. Instead, he began to chuckle, which turned into a loud, deep, hearty laugh and tears formed in the corners of his eyes. He walked me back into the kitchen and looked at the costly disaster I had made, picked up some of the ruined macarons and crushed them in his chef-scarred fist, letting the crushed cookies sprinkle down to the baking sheet like shattered egg shells. "Look, it's decoration! Not all is lost." he exclaimed. My heart stopped racing, the tears burning the back of eyes subsided and I realized that although I royally screwed the pooch, it was OK... As the years have passed, I have come up with my own little tricks to ensure a 98% success rate when making macarons, and I have since made thousands. Once you get the hang of it, macarons will become one of your favourite sweets to make and you can play with colours and flavours to create your own version. There are many ways to make these beautiful little sweets, and while I am going to walk you through my favourite way to make them, you can always try a different way and see how it goes! While I pray you succeed, and I will instruct you so that you have the best chance of success, remember this story the first time you mess these up, because as I did, so will you, a few times. Don't feel bad, just crush them up and use them on ice cream, cakes, add the crushed cookies to icing for texture or top your favourite mousse for some crunch. The crumbs will keep in the freezer for quite a while! follow on Instagram @fairytaleflavour
Recipe From food.com
Provided by ecerulli
Time 35m
Yield 30 macarons
Steps:
Number Of Ingredients: 6
Ingredients:
1 1/2 cups almond flour
1 cup icing sugar
3 large egg whites
2 drops lemon juice
1/2 cup granulated sugar
3 tablespoons water
---
FRENCH MACARONS
These cookies are a labor of love and we did a lot of research to perfect this recipe for you, after our own failures. Please follow as written and you will have a delicious and well-presented cookie. You may wish to experiment with different fillings. Enjoy!
Recipe From allrecipes.com
Provided by Wendy
Time 1h33m
Yield 24
Steps:
Preheat oven to 300 degrees F (150 degrees C). Line a baking sheet with parchment paper.
Beat egg whites in a glass, metal, or ceramic bowl with an electric mixer on medium speed until foamy, about 30 seconds. Add white sugar and continue to beat until peaks are stiff enough they stay in place when the bowl is turned upside down, about 5 minutes.
Sift 1 2/3 cup confectioners' sugar, almond flour, and salt together twice. Fold into the egg whites until batter is creamy and falls slowly off the lifted spatula, about 50 turns with a spatula. Transfer batter to a piping bag fitted with a round tip.
Pipe batter onto the parchment paper, using a circular motion to make macarons 1 inch in diameter. Tap the baking sheet against the counter about 10 times to release any air bubbles.
Bake in the preheated oven for 9 minutes. Rotate baking sheet and continue baking until macarons are shiny and rise slightly to form "feet", about 9 minutes more. Peel off the parchment paper and allow to cool completely, about 30 minutes.
Beat butter, 2/3 cup confectioners' sugar, and vanilla extract with an electric mixer until creamy and thick, about 10 minutes. Transfer filling to a piping bag fitted with a round tip.
Pipe a small amount of filling onto the center of 1 macaron; top with another macaron and press gently to sandwich the filling between the two.
Number Of Ingredients: 8
Ingredients:
3 extra-large egg whites
⅓ cup white sugar
1 ⅔ cups confectioners' sugar
1 cup almond flour
1 pinch salt
½ cup butter, softened
⅔ cup confectioners' sugar
½ teaspoon vanilla extract
---
MACARON FILLING
Use this ethereal filling for Parisian Macarons.
Recipe From marthastewart.com
Provided by Martha Stewart
Yield Makes 3 cups
Steps:
Number Of Ingredients: 3
Ingredients:
3 large egg whites
1 cup sugar
1 cup (2 sticks) unsalted butter, at room temperature, cut into pieces
---
More recipes about Mix and Match French Macarons recipes