---
EASY MOO SHU PORK
Super easy version of a delicious dish. Serve over coconut rice.
Recipe From allrecipes.com
Provided by JLC
Time 1h20m
Yield 6
Steps:
Mix soy sauce, sesame oil, ginger, and garlic in a bowl until marinade is smooth; pour into a resealable plastic bag. Add pork, coat with the marinade, squeeze out excess air, and seal the bag. Marinate in the refrigerator, 1 hour to overnight.
Heat vegetable oil in a wok or large skillet over medium heat. Add cabbage and carrot; cook and stir for 1 to 2 minutes. Push cabbage mixture aside and add pork with marinade to middle of the skillet. Cook and stir until pork is cooked through, 3 to 4 minutes. Draw cabbage into the center of the skillet; cook and stir for 1 to 2 minutes. Season with salt and pepper.
Number Of Ingredients: 9
Ingredients:
2 tablespoons soy sauce
1 tablespoon sesame oil
1 tablespoon grated fresh ginger
1 teaspoon minced garlic
¾ pound pork tenderloin, fat trimmed and pork cut into 1/4-inch strips
2 tablespoons vegetable oil
2 cups shredded napa cabbage
1 carrot, grated
salt and ground black pepper to taste
---
MOO SHU PORK
Put this filling in moo shu shells or flour tortillas. It tastes just as good as your favorite Chinese restaurant. If you have an Asian market nearby, you can buy the moo shu shells and the thinly sliced meats from there. Otherwise just ask your butcher to slice it very thin.
Recipe From allrecipes.com
Provided by NENNNY
Time 25m
Yield 4
Steps:
Cut pork into 1/4-inch-thin strips and mix with 1 tablespoon soy sauce, cornstarch, wine, and water.
Mix remaining 1 1/2 tablespoons soy sauce with cabbage, carrot, bean sprouts, and hoisin sauce in a separate bowl.
Heat 1 tablespoon oil in a wok over medium-high heat. Pour in eggs. Cook and scramble until set, about 3 minutes. Remove from wok and set aside.
Heat another tablespoon of oil in the same wok; cook pork mixture until meat is no longer pink, about 3 minutes. Remove mixture and set aside.
Heat remaining tablespoon of oil in the wok. Add cabbage mixture; stir-fry until softened but still crunchy, about 3 minutes. Add the pork mixture and eggs; stir evenly and drain.
Number Of Ingredients: 11
Ingredients:
5 ounces boneless pork loin roast
2 ½ tablespoons soy sauce, divided
2 tablespoons cornstarch
1 tablespoon wine
1 tablespoon water
2 cups shredded cabbage
1 cup shredded carrot
1 cup bean sprouts
2 tablespoons hoisin sauce
3 tablespoons vegetable oil, divided
3 eggs, beaten
---
MOO SHU PORK
Stir-fried vegetables make a nice accompaniment to this moo shu pork recipe. -Taste of Home Test Kitchen, Milwaukee, Wisconsin
Recipe From tasteofhome.com
Provided by Taste of Home
Time 20m
Yield 4 servings.
Steps:
In a small bowl, combine the cornstarch, water, soy sauce and ginger until blended; set aside. In a large skillet, saute pork and garlic in oil for 3-5 minutes or until meat is no longer pink. , Stir cornstarch mixture and add to the skillet. Bring to a boil; cook and stir for 1-2 minutes or until thickened. Stir in hoisin sauce. Add coleslaw mix; stir to coat. Spoon about 1/2 cup pork mixture into the center of each tortilla; roll up tightly.
Number Of Ingredients: 10
Ingredients:
1 tablespoon cornstarch
1/4 cup cold water
2 tablespoons reduced-sodium soy sauce
2 teaspoons minced fresh gingerroot
5 boneless pork loin chops (4 ounces each), cut into thin strips
1 teaspoon minced garlic
2 teaspoons sesame oil
1/4 cup hoisin sauce
3 cups coleslaw mix with carrots
8 flour tortillas (8 inches), warmed
---
MOO SHU PORK
This is a popular classic in the Chinese restaurant scene. You can replace the pork with chicken or shrimp, but the original recipe is with pork. My parents say this recipe tastes better than the ones they've had in Canadian Chinese restaurants. Once you get the hang of making it, you'll want to make it often. If you don't want to spend the time making pancakes, you can use soft tortillas to replace. The homemade pancakes are much better though. This dish goes well with hot and sour soup, for a Beijing style meal.
Recipe From food.com
Provided by SpiceBunny
Time 1h
Yield 4 serving(s)
Steps:
Rehydrate the wood ears and lily buds a day ahead of time. I usually keep them in a tupperware container in the fridge.
In a wok filled with 3 tbsp oil, bring to high temperature and add the pork. Using a strainer, quickly move around the pork and cook until medium rare, only 1 minute. Remove, strain pork and set aside.
Leave 2 tablespoons of oil in the wok and return to high heat. Add eggs to hot oil and scramble. Set them aside with cooked pork.
With remaining oil in wok, stir fry the garlic, ginger, and shiitake mushrooms until soft, about 2-3 minutes and season with kosher salt and freshly ground black pepper.
Add the cabbage, bamboo shoots, and wood ear mushrooms and continue stir frying 2-3 minutes.
Add half of the hoisin-lime and check for flavor.
Meanwhile, in a steamer, heat the pancakes until hot.
Lay individual pancakes on plates and paint on hoisin-lime sauce with the scallion brushes. Top with Moo-Shu, lay on 2 scallion brushes and roll up.
How to make the pancakes.
2 cups unsifted flour.
3/4 cup water.
Kadoya sesame oil.
Place the flour in a mixing bowl, making a well in the center. Bring water to a boil, then add to the flour. Add additional flour or water as needed to produce a non-sticky dough which can be kneaded. Place the dough on a very lightly floured surface and knead for about 5 minutes. Cover the dough and allow to rest for 30 minutes.
At the end of 30 minutes, briefly knead the dough for an additional minute or two. Then, roll the dough into a sausage shape, about 1 1/2-inches in diameter. Measure the cylinder into 16 equal size pieces. Cut and roll each piece into a smooth ball. Moisten fingers with a bit of sesame oil. Flatten each ball out to make a round, biscuit shaped disc. Place the disc on a flat surface and brush top with sesame oil. Similarly, flatten out another ball into a disc of similar diameter and place it atop the first. Roll out this double biscuit into a circle about 6 or 7 inches in diameter. Complete this procedure using the rest of the dough.
Heat a skillet, brushing the inside bottom with sesame oil. Add one of the double pancakes and cook 30 seconds. Flip and cook another half minute, taking care that they do not brown. Quickly lift the pancake away from the hot surface and slap it down on the work surface. While the pancake is still warm, peel the double cake apart into two pancakes. Reserve. Repeat until all of the cakes have been completed. Stack in a sheet of foil. Carefully seal the foil with pancakes into a packet and steam 20-30 minutes before use. Serve warm.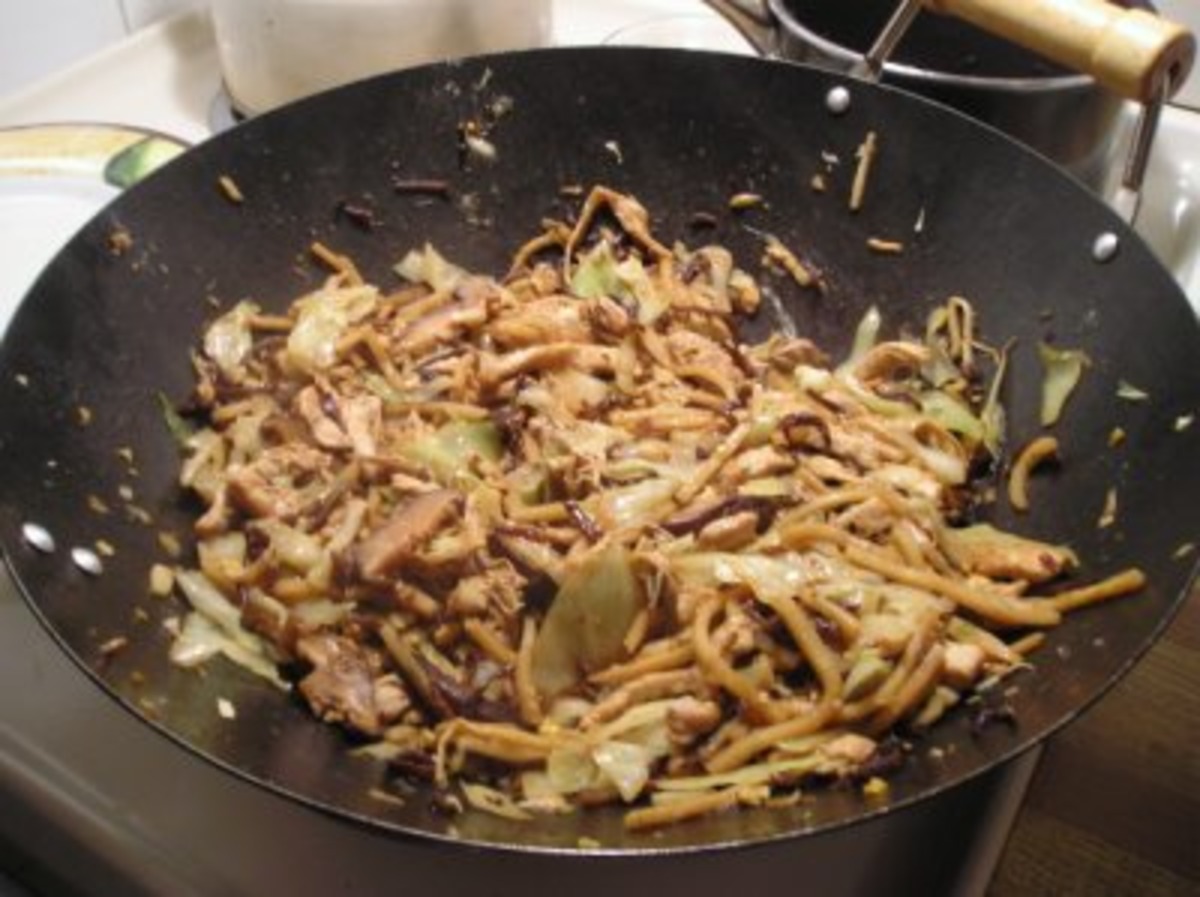 Number Of Ingredients: 16
Ingredients:
1 lb pork, julienned
1 tablespoon garlic, minced
1 tablespoon ginger, minced
1 cup shiitake mushroom, sliced
2 cups white cabbage, shredded
3/4 cup bamboo shoot, julienned (may use canned that have been rinsed well in cold water)
3/4 cup wood ear mushrooms, julienned (rehydrated)
10 dried lily buds
1 cup hoisin sauce
1 -2 tablespoon dry sherry (or splash of sake to taste)
3 eggs, beaten lightly
1 bunch scallion, made into scallion brushes (to make brushes, hold scallion green and with a paring knife, make several vertical slices through w)
4 -6 Chinese pancakes, steamed hot
kosher salt
black pepper (freshly cracked is best)
canola oil or grapeseed oil, to cook
---
COPYCAT MOO SHU PORK
This recipe is taken from the "Company's Coming Asian Cooking" cookbook. If possible, try not to omit or substitute any ingredients, as this will maintain the authentic flavour. I've also included a recipe for mandarin pancakes, which are required to serve the Moo Shu.
Recipe From food.com
Provided by Lazarus
Time 55m
Yield 4 cups, 16 serving(s)
Steps: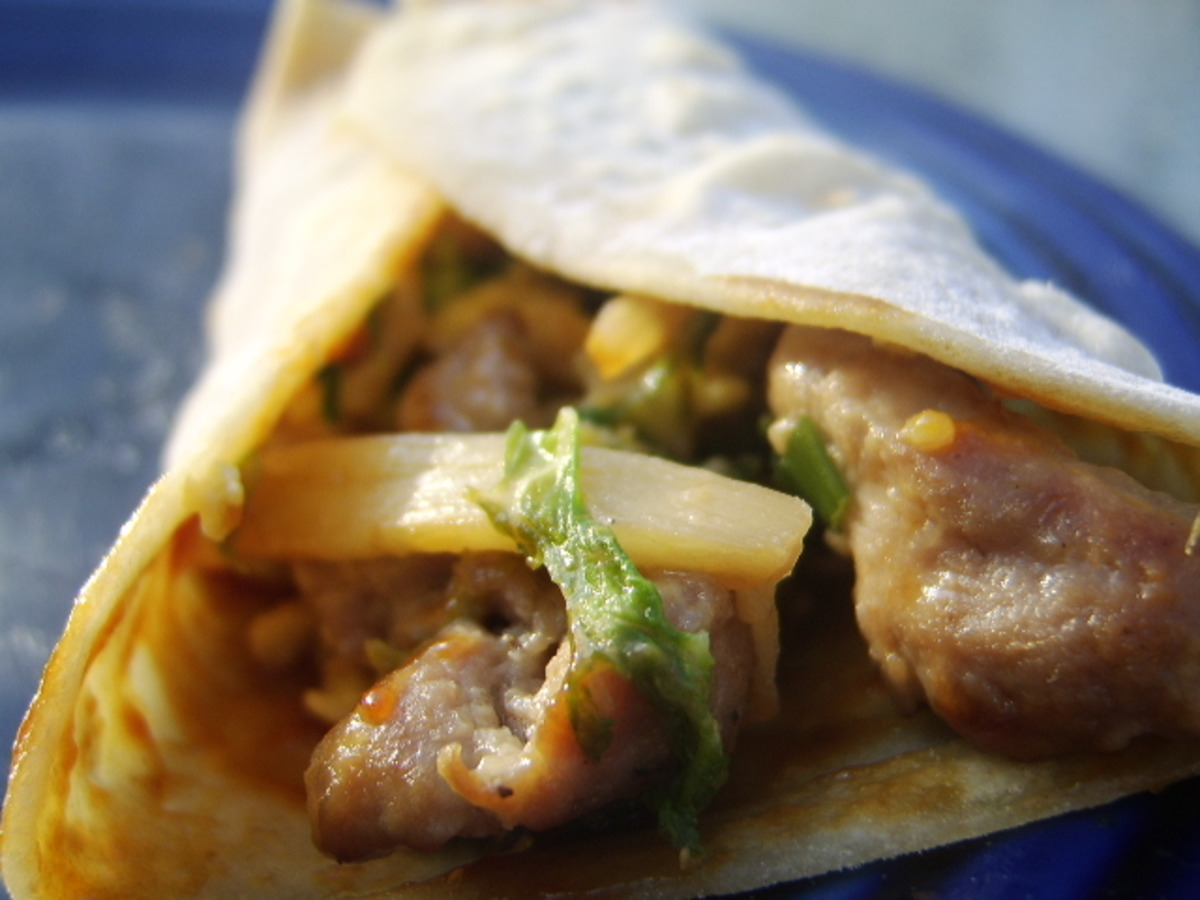 Number Of Ingredients: 22
Ingredients:
2 1/3 cups all-purpose flour
1 cup water, boiling
4 teaspoons sesame oil (or cooking oil)
1 tablespoon water
1 tablespoon cornstarch
1 1/2 tablespoons soy sauce
1/2 teaspoon granulated sugar
1 tablespoon sake (may substitute sherry)
1/8 teaspoon pepper
3/4 lb pork tenderloin, cut into 1/4 inch strips (6mm)
3 dried shiitake mushrooms, with boiling water to cover
3 large eggs
1/2 teaspoon salt
1/16 teaspoon pepper
1 tablespoon cooking oil
2 cups suey choy, shredded
1 teaspoon finely grated gingerroot (or 1/4 tsp ground ginger)
1 garlic clove, crushed (or 1/4 tsp garlic powder)
3 green onions, chopped
2/3 cup bamboo shoot, cut into matchsticks
1 teaspoon soy sauce
1 1/2 tablespoons hoisin sauce (to spread on pancakes)
---
MU SHU PORK
Recipe From foodnetwork.com
Provided by Food Network
Time 2h20m
Yield 4 to 6 servings
Steps:
Combine soy sauce, sherry and hoisin sauce in a bowl. Add the pork, toss to coat evenly, cover, refrigerate and marinate for 30 minutes.
Meanwhile, soak the mushrooms in enough hot water to cover for 20 minutes. Drain and thinly slice. Set aside on a plate, along with the cabbage, carrot and scallions.
Heat a wok or large skillet over medium/high heat. Add 1 tablespoon of the peanut oil and swirl to coat. Pour in the eggs, swirling and tilting the wok to form a thin film. Cook just until the eggs are set and feel dry on top, about 1 minute. Transfer to a platter, let cool slightly and cut into 1 inch strips.
Return the wok to high heat, and swirl in the remaining 2 tablespoons oil. Add the garlic, and ginger, and stir-fry to release the aromas, about 1 minute. Add the pork and stirfry until lightly browned, about 2 minutes. Add the reserved mushrooms, cabbage, carrot, bean sprouts, and scallions, along with the chicken stock, and stir-fry another 2 minutes. Stir in soy sauce, sherry, sesame oil, and sugar, and cook, stirring until sauce boils, about 1 minute. Add egg strips and mix well. To serve, spread a small amount of hoisin sauce on a warm Mandarin Pancake. Spoon about 1/2 cup mu shu mixture in center of pancake, wrap like a burrito, folding the ends to close, and serve.
Place flour in a medium bowl, making a well in the center. Pour in the boiling water, and use a wooden spoon or chopsticks to mix until a soft dough is formed. On a lightly floured surface, knead the dough gently until it is smooth and elastic, about 5 minutes. Cover with a damp towel and let rest for 20 minutes.
On a lightly floured surface, roll dough into a log, 16 inches long. Cut the log crosswise into 1 inch pieces, shape each piece into a ball, then use your hands to flatten each ball into a pancake. Brush the tops of the pancakes lightly with the sesame oil. Then, place one pancake on top of a second pancake, oiled sides together, so that there are 8 pairs. With a rolling pin, flatten each pair into a 6 inch circle. (A tortilla press also works well for this.) Cover the pancakes with a damp towel to rest.
Heat an ungreased, nonstick skillet over medium heat. Cook the pancakes, one at a time, turning them once as they puff and little bubbles appear on the surface, until lightly browned, about 2 minutes on each side. As each pancake is finished, remove from pan and gently separate the halves into 2 pancakes while still hot. Stack cooked pancakes on a plate while cooking the remaining pancakes.
Serve pancakes while still warm with Mu Shu Pork. Or, pancakes may be prepared up to 1 day in advance, wrapped in plastic, and refrigerated. Pancakes may also be frozen. Reheat them by steaming for 5 minutes, or warming them in a 350 degree F oven, wrapped in foil, for 10 minutes.
Yield: 16 pancakes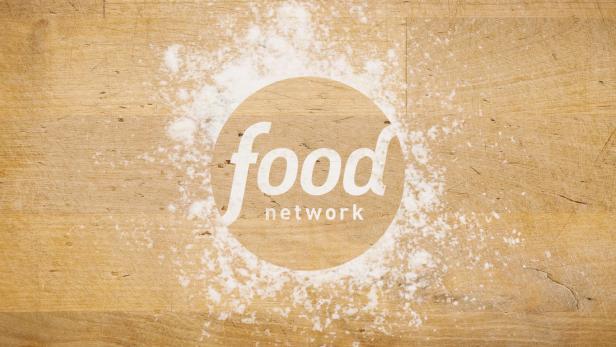 Number Of Ingredients: 20
Ingredients:
2 tablespoons soy sauce
1 tablespoon dry sherry
1 teaspoon hoisin sauce
1/2 pound boneless lean pork, shredded
4 dried black mushrooms
2 cups finely shredded Napa cabbage
1 carrot, julienned
3 scallions, white and light green parts, slivered
1 cup bean sprouts
3 tablespoons peanut oil
2 eggs, lightly beaten with 1/2 teaspoon salt
3 cloves garlic, minced
3 teaspoons freshly grated ginger
3 tablespoons chicken stock
2 teaspoons sesame oil
1 teaspoon sugar
Hoisin sauce
2 cups sifted flour
3/4 cup boiling water
1 to 2 tablespoons sesame oil
---
MOO SHU PORK
This is not your corner takeout's moo shu pork, but it is popular in China, where its northern origins are debated, according to the author Carolyn Phillips. The egg is thought to resemble the flowers of the sweet olive (osmanthus fragrans) shrub, hence its Chinese name, muxi rou, or osmathus blossom pork. The ingredients are stir-fried in batches to cook evenly and retain the vibrancy of the colors. The sauce is intentionally salty, so underseason the stir-fry and add just a dab of sauce to each wheat wrapper.
Recipe From cooking.nytimes.com
Provided by Sara Bonisteel
Time 45m
Yield 2 to 3 main course servings
Steps:
Make the sauce: Heat sesame oil in a wok over medium heat and mix in sweet bean paste. Stir together until smooth and then add soy sauce and sugar. When sauce bubbles, taste and adjust seasoning, then scrape sauce into a small bowl. Rinse out wok.
Make the moo shu pork: In a small bowl, mix together rice wine and sugar. Set aside.
Slice meat against the grain into 1/4-inch-thick pieces. Cut into batons about 1/8-inch wide. Put batons in a small bowl and toss them with salt. (If using pressed bean curd, cut it into thin julienne before tossing it with salt.)
Soak shredded dried wood ear fungus in boiling water until pliable, about 15 minutes, then rinse and drain in colander. (Fresh wood ears should be rinsed before they're trimmed and cut into thin strips.) Meanwhile, if using dried daylily flowers, cover with boiling water and let soak until soft, about 10 minutes, then drain and tear into strips. (Carrots do not need to be soaked.)
Place wok over medium heat, and when hot, swirl in 2 tablespoons sesame oil. Toss in garlic and fry until fragrant. Add eggs and scramble them, breaking up large curds into pieces 1/2 inch or smaller. When eggs are barely done, scrape into a large, clean bowl. If any garlic remains in the wok, wipe it out.
Raise heat under wok to high. Pour in another 2 tablespoons oil into the hot wok and quickly stir-fry meat until it's browned before scraping it into eggs.
Return wok to high heat. Stir-fry bamboo shoots with a little bit more oil as needed, then add wood ears and either the daylily flowers or carrot and cook these until they are barely done before tossing them into the bowl with the meat and eggs. (If you're using bean sprouts in place of bamboo shoots, cook the wood ears and daylily flowers or carrot alone and add them to the bowl with the meat and eggs; then place wok over high heat, swirl in a tiny bit of oil and quickly stir-fry the sprouts until they're just beyond raw but still very crisp before adding them to the bowl with the other cooked ingredients.)
Place wok back over high heat, pour in any remaining sesame oil, and add green onions, all of the cooked meat, eggs and vegetables, and the rice wine and sugar mixture. Toss these quickly together for a few seconds, taste and adjust seasoning, and plate in a bowl or on a rimmed platter.
Serve hot with the sauce, wheat wrappers and shredded green onions. Have each diner spread about 2 teaspoons sauce down the center of the wrapper, sprinkle on some raw green onions, and pile on about 1/2 cup of the meat mixture. Fold the bottom edge of the wrapper up over the meat mixture, then fold one side over the center before rolling up the rest of the wrapper from the opposite edge. Eat with your hands.
Number Of Ingredients: 17
Ingredients:
2 tablespoons toasted sesame oil
1/4 cup sweet bean paste
2 teaspoons soy sauce
2 teaspoons sugar
2 tablespoons mild rice wine, such as sake
1 teaspoon sugar
4 ounces boneless pork tenderloin (or beef or pressed bean curd)
1/2 teaspoon fine sea salt
1/4 cup shredded dried wood ear fungus (often sold as "black fungus") or 3 fresh wood ears
1/4 cup dried daylily flowers, or 1 small carrot, peeled and julienned
6 tablespoons toasted sesame oil or peanut or vegetable oil, divided
2 cloves garlic, minced
3 large eggs, lightly beaten
1 large fresh winter bamboo shoot, peeled, blanched and julienned (or frozen and defrosted, julienned), or 8 ounces mung bean sprouts
2 green onions, trimmed to 1 1/2-inch lengths and cut into thin shreds
8 thin wheat wrappers (see recipe) or 8 soft flour tortillas, warmed
2 green onions, trimmed to 1 1/2-inch lengths and cut into thin shreds
---
MOO SHU PORK
This is an easy and delicious take on a classic Chinese food meal. This recipe uses cooked (leftover) pork. You may substitue cooked chicken or beef for the pork. Based on a recipe from Cook's Illustrated.
Recipe From justapinch.com
Provided by Kathy D
Time 25m
Steps:
1. Mix the chicken broth, 2 T of the hoisin sauce, all of the soy sauce and cornstarch together. Set aside.
2. Heat 1 T. of the oil in a large, non-stick skillet over high heat. Add the mushrooms and cook until lightly browned, about 4 minutes.
3. Push the mushrooms to the edges of the pan and add the remaining 1 T. oil, garlic and ginger to the center. Cook, mashing the garlic mixture with the back of a spoon, for about 30 seconds.
4. Stack the tortillas on a plate and cover with paper towel. Heat in the microwave for about 30 seconds to 2 minutes. You just want to get them soft and hot.
5. Stir in the cooked pork, cabbage and scallions and cook for about 1 minute.
6. Whisk the reserved sauce to recombine and add it to the pan. Bring it to a simmer and cook until the sauce thickens, about 1-2 minutes.
7. Serve with warm torillas and remaining hoisin sauce. Enjoy!
Number Of Ingredients: 12
Ingredients:
1/3 c chicken broth, low-sodium
6 Tbsp hoisin sauce, divided
2 Tbsp soy sauce, low-sodium
2 tsp cornstarch
2 Tbsp vegetable oil, divided
8 oz shiitake mushrooms, thinly sliced
8 flour tortillas, 6 inch size
4 clove garlic, minced
1 Tbsp ginger, grated
10 oz pork, cooked, sliced into thin strips
8 oz pre-shredded cabbage (4 cups)
5 scallions, sliced thinly
---
More recipes about moo shu pork recipes recipes