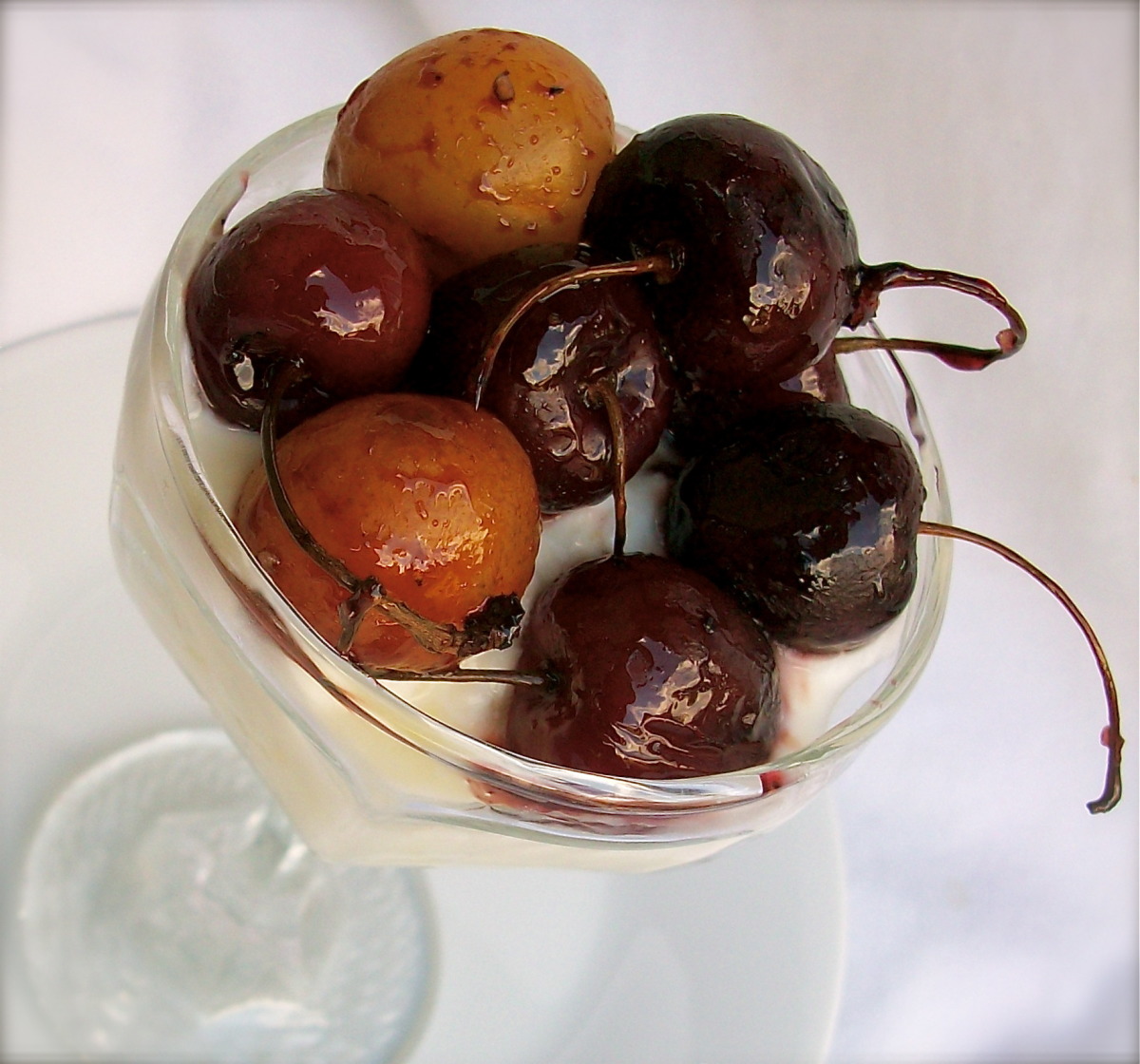 Based on a recipe from The Big Sur Bakery Cookbook. I ended up with a surplus of bing cherries recently and found this recipe online. I did not have either cherry brandy or the Banyuls Rimage wine on hand, rather substituted an Oregon-distilled pear brandy (although a suitable red wine will work). Serving suggestions: over ice cream, custard/flan, pound or sponge cake, plain yogurt (Greek yogurt) or even a simple slice of mild goat cheese. For kicks, I threw in a few Rainier cherries to test how they would taste roasted. Five ingredients-very easy!
Provided by COOKGIRl
Categories Dessert
Time 30m
Yield 3-4 serving(s)
Number Of Ingredients 5
Steps:
Note from the website: 'The cherries are roasted whole but can be pitted before serving, which is recommended if you are feeding those too young or too old to deal with the pits. (Don't pit them beforehand, or you'll release too many juices.)' However, CG stresses and highly recommends not serving the dessert to children. Furthermore, I would treat this dessert as more appropriate for adults and serve *only* to adults to avoid any problems and an emergency visit to the dentist. I can't imagine having to pit these *after* they've roasted. My two cents.
Preheat oven to 450°.
Place the whole cherries in a small roasting pan (I used an 8-inch cast iron skillet) sprinkle on the sugar, salt and pepper.
Place pan or skillet in the oven and roast until the cherries start to release their juices and the sugar melts and begins to caramelize. This will take about 10 minutes but watch the cherries very carefully, as the sugar may start to burn.
Remove from the oven, pour the brandy over and return for another 5 minutes and roast until the juices start to bubble up.
Remove from the oven and let cool slightly before serving. Can be cooled completely and reheated gently on the stove top. (If you're removing the pits, do this before reheating.).
Yield is estimated.
Similar recipes "roasted cherries food"
More recipes about "roasted cherries food"
ROASTED CHERRY TOMATOES RECIPE | ALLRECIPES
---
ROASTED CHERRY TOMATOES RECIPE - FOOD.COM
---
CRISP-TENDER ROAST DUCK WITH CHERRY-ROSEMARY SAUCE …
---
10 BEST GLACE CHERRIES RECIPES | YUMMLY
---
23 BEST CHOKE CHERRY RECIPES IDEAS | CHOKECHERRY, CHERRY ...
---
ROAST DUCK BREAST WITH DRIED CHERRIES AND PORT - FOOD NETWORK
---
CRISP POLENTA WITH ROASTED CHERRY TOMATOES - FOOD & WINE
---
ROASTED QUAIL WITH CHERRY AND RED WINE SAUCE | RICARDO
---
ROASTED GOOSE LEGS WITH SOUR CHERRY GLAZE AND GRAVY | FOOD ...
---
ROASTED CHERRY TOMATOES RECIPE | TYLER FLORENCE | FOOD NETWORK
---
CHERRIES | FOODLAND ONTARIO
---
ROASTED CHERRY TOMATOES RECIPE | INA GARTEN | FOOD …
---
WHIPPED FETA WITH ROASTED CHERRY TOMATOES – LA TOURANGELLE
---
OUR BEST CHERRY RECIPES | MYRECIPES
---
ROASTED CHERRY TOMATOES RECIPE | BON APPéTIT
---
8 FABULOUS CHERRY RECIPES FOR FRESH OR FROZEN CHERRIES ...
---
ROAST CHERRY TOMATOES - RECIPES | COOKS.COM
---
CHERRY RECIPES | WOOLWORTHS
---
CHAI CHERRY CRUMBLE - BAKING BITES
---
CHERRIES | RECIPES - SPECIALTY PRODUCE
---
FOOD.COM - RECIPES, FOOD IDEAS AND VIDEOS
---
BEST CHERRY RECIPES | FOOD & WINE
---
DONAL'S ROAST CHERRY TOMATO PICI
---
CHERRY RECIPES | ALLRECIPES
---
30 RECIPES TO MAKE WITH FRESH CHERRIES - TASTE OF HOME
---
CHEERFUL CHERRY RECIPES | FEATURES | JAMIE OLIVER
---